Rudder
Rudder
Attributes
Health
85
Armour Class
1
Structural
Unknown
Weight
15
Relative Buoyancy
Unknown
Size
1x1x2
Material Cost
10
A boat Rudder allows the vehicle to turn in the water, while on the move.
It is typically placed on the back of the water vehicles, allowing them to turn. However, other combinations are also permitted.
Since a boat rudder does not use power, it is recommended for sail based water crafts.
Rudders placed directly in front of a Huge Propeller will not function.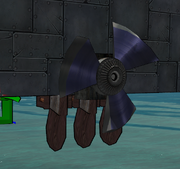 Water
Provides rotation force in horizontal plane, with respect to the speed.
H - Left
K - Right

A Boat rudder cannot be placed on Turrets or Spin/Turn Blocks.